DD Cold Chain is a leading provider of frozen and chiller delivery services in Malaysia and Singapore. We specialize in ensuring the safe and timely transportation of temperature-sensitive goods from door to door, catering to both business-to-consumer (B2C) and business-to-business (B2B) needs.
Our comprehensive services include:
Door to Door Frozen & Chiller Delivery in Malaysia & Singapore:
We offer reliable and efficient frozen and chiller delivery services from the point of origin to the final destination, directly to your customers' doorsteps. Whether it's perishable food items or pharmaceutical products, we maintain the required temperature throughout the transit to preserve the quality and freshness of your goods.
Bulk Delivery to Shopping Malls, Marts, Chain Outlets in Malaysia & Singapore:
For businesses requiring bulk distribution of temperature-controlled products to various shopping malls, marts, or chain outlets, we provide efficient solutions to meet your logistics needs. Our specialized fleet ensures that your products are delivered on time and in perfect condition to different retail locations.
Consolidated Reefer Container to East Malaysia (Kuching, Miri, Sibu, Bintulu, Kota Kinabalu):
We offer consolidated reefer container services to East Malaysia, catering to cities such as Kuching, Miri, Sibu, Bintulu, and Kota Kinabalu. This ensures cost-effective transportation for businesses with shipments to multiple locations in the region.
Import & Export Custom Clearance for Temperature Control from Overseas:
We understand the complexities of international trade and customs regulations. DD Cold Chain provides import and export custom clearance services for temperature-controlled goods, ensuring a smooth and hassle-free process for your cross-border shipments.
Warehousing Pick Pack Service:
Our warehousing facilities are equipped with advanced temperature-controlled systems to store and manage your products. Additionally, we offer pick-and-pack services, streamlining your order fulfillment process and enhancing overall operational efficiency.
B2C Door to Door Price and Postage Coverage:
For individual customers, we provide transparent pricing and comprehensive postage coverage for door-to-door frozen and chiller deliveries. You can easily access our services through our website: https://dd.express/.
B2B Bulk Distribution:
For businesses with specific bulk distribution requirements, we offer tailor-made solutions. Please get in touch with our team for more details:
Hotline: 03 7499 7232
WhatsApp:
http://www.wasap.my/601133881307
http://www.wasap.my/60108741722
http://www.wasap.my/60129189338
At DD Cold Chain, we are committed to providing reliable, efficient, and temperature-controlled logistics solutions for your valuable goods. Contact us today to discuss your specific requirements and experience seamless cold chain services. Thank you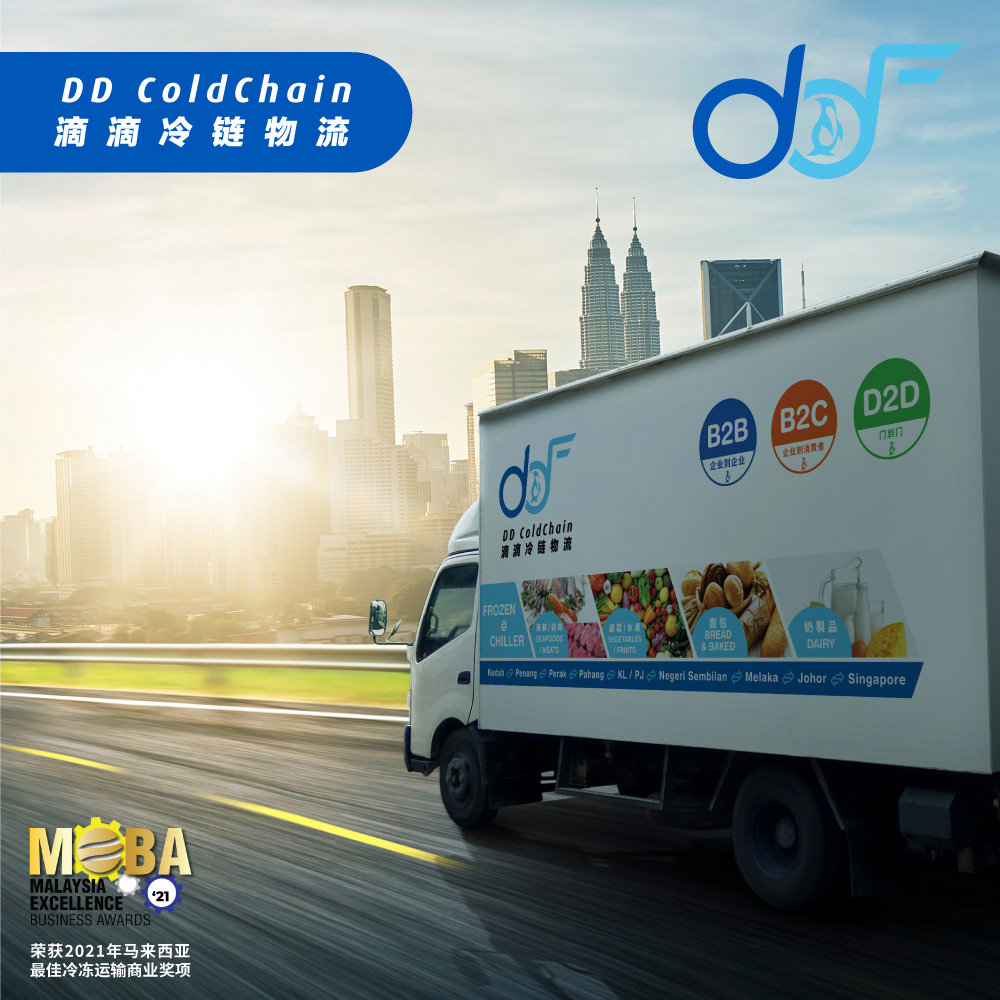 OUR MISSION
Become a recognised Green & Intelligent Company in ASEAN
OUR VISION
To Digitize logistics solution for businesses and trading partner to increase productivity and cost-efficiency